Le Jardin - Walton Ford's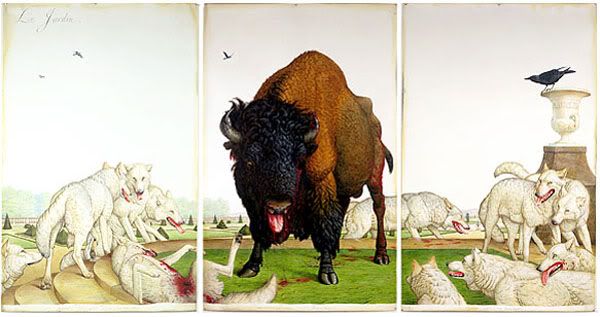 Sempre adorei a Pintura cuja interpretação é múltipla, os trabalhos de Walton Ford, em torno do Absurdo, permitem tal abordagem apesar do plexo pictórico que leva a poucos imediatismos.
With this method, Mr. Ford produces watercolors and prints that are at once naïve and sophisticated, obvious and oblique. His style is superrealism (in the tradition of John James Audubon and Edward Lear) overlaid with surrealism (Bruegel and Bosch) and absurdity (R. Crumb and David Lynch).
Este jardim "Formalmente" Francês representa o quê?
Such true stories are the underpinnings of all of Mr. Ford's work, which he once called "fake natural-history art." He admits he is looking for "a sort of attraction-repulsion thing" in which potential violence is coupled with a good back-story. (...)
Mr. Ford, who is 45, often "quotes" earlier artists. He is using, for example, the basic composition of Benjamin West's "Death of Wolfe," but replacing the British general and his mourning entourage with Carolina parakeets. For "Le Jardin," the centerpiece of the Kasmin show, he lifted almost verbatim from the sketchbooks of George Caitlin, the American Indian painter, a scene of a blood-soaked standoff between a buffalo and a pack of white wolves.Again life-size and produced as a triptych, this watercolor has more than one interpretation. Beyond being a nod to the vanished world of the Old West, it is a war of worlds and manners. It is a scene of incredible savagery set in a formal French garden with clipped lawns, an urn and topiary, a version of one Mr. Ford saw recently in Normandy. "I thought, 'You take this American frontier and you bust loose,' " Mr. Ford said. "It's every French person's nightmare, and it becomes like Henry James, that conflict between European and American sensibilities."