7 New architectural wonders of the world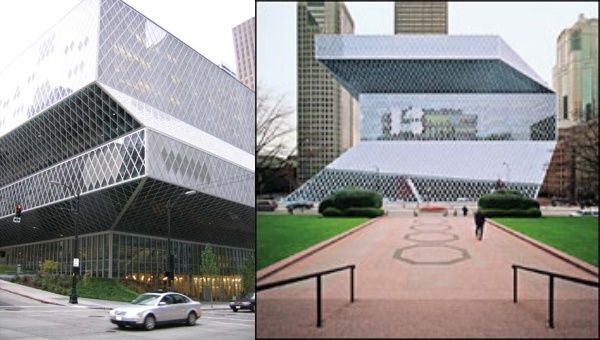 Rem Koolhaas,
Seattle Public Library
Magazine ranks 7 new architectural wonders of the world
Travel and the Arts

NEW YORK -- Architectural triumphs in Chicago, Seattle, London, Germany and Japan have made it on to Conde Nast Traveler's list of the "new seven wonders of the world."

The magazine's April issue honors Millennium Park in Chicago with two spots on the list -- one for Cloud Gate, a stainless steel sculpture that reflects the viewer, the park and the city, and the other for Frank Gehry's footbridge spanning Columbus Drive, connecting the outdoor amphitheater and Grant Park.

Also on the list are:

A 40-story London building, located at 30 St. Mary Axe, affectionately nicknamed "The Gherkin," a reference to its unusual curved structure. A steel lattice built atop the reflective glass exterior makes it look like the tower is wrapped in ribbons of black and silver diamonds.

The Matsumoto Performing Arts Center, two hours east of Tokyo, where walls of undulating concrete feature handcut windows, shaped like the holes in Swiss cheese and designed to bring to mind the region's abundant snowfall.

The Seattle Public Library, a light-filled glass cathedral with a honeycomb mesh exterior. The building offers sweeping views of the city and four floors are arranged in a gently sloping spiral so visitors can move between levels without stairs or elevators.

A fashion palace in Tokyo's high-end Ginza district for Dior couture. The five-story glass box has white acrylic panels that flow like fabric on a skirt.

The Langen Foundation art galleries outside Dusseldorf, Germany, which consist of two distinct structures -- Japanese works on display in a concrete block enveloped in glass, surrounded by a reflecting pool, and European works in underground concrete galleries that are intended to remind visitors of the classified NATO missile site once housed here.
in
Archinect.com