Siza + Souto Moura = Serpentine Gallery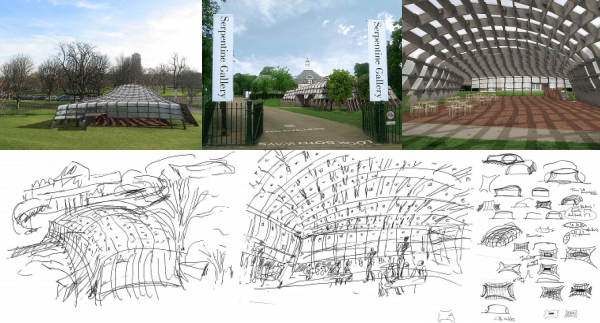 Mais uma colaboração, para celebrar a dual relação Mestre/Aprendiz, embora muitos irão asseverar, que o Siza já não seja o indigitado para a posição de Mestre? Não gosto do projecto, mas estou a reduzi-lo à questão estética, porque reconheço alguma afinidade ao lugar, tem qualquer coisa de Tenda Medieval e o uso de madeira na estrutura, dá sentido de pertença ao pequeno desafogo campestre onde está inserido, o aspecto Tenda é superficial, neste caso a construção é perene e bem ancorada ao lugar.
The Serpentine Gallery Pavilion 2005 will be designed by the celebrated Portuguese Pritzker Prize-winning architect Álvaro Siza and the distinguished architect Eduardo Souto
de Moura. As in past years Cecil Balmond, Deputy Chairman of Arup, will be closely involved with the design of the scheme together with his team. Opening this summer, it will replace the previously announced Pavilion designed by Dutch practice MVRDV with Arup, which requires further development.

The Pavilion has been described by Siza as resembling a restless creature like an animal whose legs are firmly attached to the ground, but whose body is tense from hunger with an arched back and taut skin. With its head lowered and limbs locked, it remains rooted to the spot, but poised for movement - almost as if the Serpentine itself might be consumed.

In a series of interlocking timber trusses, a curvaceous form undulates across the lawn. A semi-translucent material covers the primary wooden grid like an animal's hide, creating an impermeable shell that stops 1.3 metres from the ground, giving the impression that the structure is hovering above the lawn. A rectangular floor area, made of a carpet of grey brick, will serve as a linear counterpoint to the curvature of the main structure.

Each panel of translucent cladding has at its centre an electrical lamp that operates night and day creating small pinpricks of light that provide a circular contrast to the overall grid of the Pavilion.

Siza and Souto de Moura will also design furniture for the interior of the Pavilion that serves as a café by day and a forum for learning, debate and entertainment at night.

The Serpentine Gallery Pavilion is the only architectural programme of its kind in the world. Since the commission was launched in 2000, it has resulted in four landmark temporary structures. The architects - Oscar Niemeyer, 2003; Toyo Ito with Arup, 2002; Daniel Libeskind with Arup, 2001; and Zaha Hadid, 2000 - were chosen because of the way in which they consistently push the boundaries of architectural practice. At the time of their invitation, none had completed a structure in the UK.

For the second year running, the Serpentine Gallery Pavilion will be supported by Eurex, the world's largest futures and options exchange. Rudolf Ferscha, Chief Executive Officer of Eurex said: We are delighted to be associated with one of London's finest and most accessible modern and contemporary art galleries and the Serpentine Gallery Pavilion offers us a fantastic opportunity to interact with our London-based customers and the community at large. Eurex stands for open and equal access to financial markets. We connect people across borders and, in this spirit, we support this exciting project.

Finnforest Merk is Europe's leading supplier in engineered timber products and construction solutions. With a strong commitment to the environment and sustainability the engineered timber, Kerto (LVL), used in this year's Pavilion will have been sourced from their own fully certified sustainable managed forests. Warren Dudding, UK Marketing Manager, Finnforest Merk said: Finnforest Merk is proud to be able to contribute towards this year's project and play its part in delivering yet another landmark Pavilion for the Serpentine.
in
serpentinegallery.org